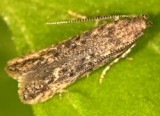 All the presentations that were made during the november 2011 Symposium in Morocco; and associated links.Tuta Absoluta is a major pest of solanaceum crops.
EPPO (European and Mediterranean plant Protection Organization) has published all the documents issued during this very important joint symposium at a global level.
Distribution, bio-ecology and damage of Tuta absoluta
Current status of the tomato borer in EPPO/NEPPO countries
Control strategies: chemical control and mating disruption
Control strategies: biological control
Control strategies: integrated pest management (IPM)
The Agripest network site, maintained by Russell IPM, has put in line some technical documentation. Have a look in particular to the gallery.
Read also "UN food agency steps up efforts to stop tomato-eating moth threat to crops in Near East"