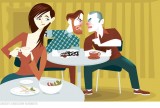 This story has been published by Cosmos, a educational review on scientific matters.
It's not just about GM foods. It's about every social dispute which includes a risk assessment part. Our brain is not so reasonable : "the brain is only the organ with which we think we think. To be blunt: we are not as smart as we think we are." We often think in a "heuristic" way, a thinking shortcut, which sometimes drives us towards mistakes, especially about risk evaluation.
An other important element is our willing to be inside our group : "Mark Lynas describes how that feels. A long-time environmental activist, he recently changed his mind about GMOs.  "I lacked the courage to speak out for a long, long time. When I did, I felt like I had fallen through the floor. It was heretical to my tribe." That is not the language of reason, nor does it have anything to do with the facts about GMOs. It is the language of fear, and emotion, which is the central language that shapes the way we see risks.
The complete reading of this story is very useful. It is not ony an analysis. It also gives some good news: how to deal with the challenge of communicating about risk more respectfully.